Your boat served you well over the past boating season. However, with normal wear and tear, your boat requires attention. Maintain your boat as service needs arise, and keep its value and performance at its peak.
Reasons to perform boat maintenance in the fall and winter:
Maintenance issues are top of mind
The shop maintenance schedule is accommodating
Repairs that take time won't affect your boating season
Your boat will be in top shape for storage and springtime launch
 Waiting until springtime will put you in a busy service schedule
Waiting until springtime will put you in a busy service schedule
First and foremost is that it's important to address performance issues while they are still top of mind. Putting off maintenance can compound a problem, while waiting until springtime puts you in a line up during the busiest season at the shop.
 Here are some items to consider for fall and winter maintenance.
 Repair Gel Coat Damage Early
It's common to get minor dings in your boat's gel coat finish. For instance the docking that didn't go quite right, or the trailer loading in wavy conditions, or a flotilla party where the bumper shifted and scraped another boat.
Gel coat is the glossy mirror finish that brings your boat's fiberglass shine. It protects the inner structural fiberglass. Dings left unattended can get water and contaminants underneath that can cause a minor imperfection to spider crack and become a larger and more involved repair.
Lakeside Marine's professional fiberglass repair service produces top-quality repairs that keep your boat's finish looking like new, while protecting your investment.
 Boat Bottom Painting
Fall is a great time to freshen up your boat bottom paint. If your boat is stored for long periods in the water moored, docked, in a slip, or in a boathouse, then you need bottom paint.
Fresh bottom paint eliminates the hassle of recurring maintenance of having to scrub away algae and marine organisms that adhere to the bottom of your boat. It's discouraging to show up ready to go boating, only to realize that you should do some scrubbing prior to departure.
Algae and organisms not only decrease your boat's performance, but can also cause damage to your boat bottom.
We bottom paint hundreds of vessels each season. Get your boat scheduled early and be ready to launch come springtime.
 Boat Electrical Inspections Prevent Boat Fires
It is a fact that the number one cause of boat fires is faulty electrical wiring. The marine environment is harsh and corrosion is a reality. Even storage of a boat with temperature swings can degrade electrical connections. Furthermore, the pounding of waves during operation can jar electrical connections loose.
Have you ever experienced a glitch in your boat's ignition system? You turned the key and nothing happened? Or you experience starting issues with either warm or cold starts? Small electrical issues can spell big trouble by either leaving you and your family stranded, or worse can short out and cause sparks that produce a boat fire.
The certified marine technicians at Lakeside Marine are experts at trouble shooting, repairing, and installing new electrical items on your boat. Spark protection and circuit protection are a top priority, as well as the use of top-grade marine wire that resists internal corrosion. We use heat shrink tubing that protects connections and keeps them stable over the long term.
 Upgrade Your Boat Audio System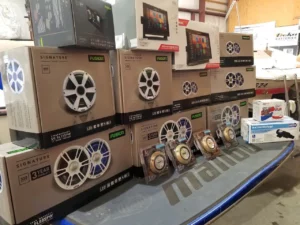 Boat audio is different from car stereo installation. Not only are the components themselves different, but the installation needs to address the challenges of the marine environment.
The main stereo unit in your dash needs to be rated for marine use. The spray of water and rain will soon degrade a standard car stereo. The internal electronic boards are also special construction to withstand the extremes of weather and environment.
Speakers are constructed from materials that can handle the elements. Brackets, boxes, and components are manufactured to resist corrosion. Speaker placement and extra power to drive them are also an important factor in marine stereo installation.
With hundreds of successful marine audio installations on all types of boats, our technicians can be trusted to install a great sound system. Plus Lakeside Marine is an authorized dealer of all the hottest brands and we offer them at a great price.
Clean marine audio installation both cosmetically and technically is what sets us apart from other marine services. At Lakeside Marine, we simply operate at the highest level of marine standards. Practice makes perfect.
 Custom LED Boat Lighting Installations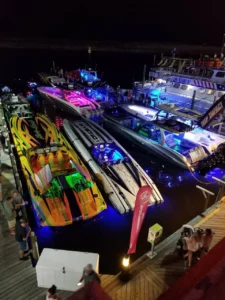 Nighttime on the water can be a magical time with family and friends. Custom lighting both above and below the waterline can enhance your nighttime boating experiences.
Lighting can set the ambiance for a nighttime party, relaxing, or night cruising. At the same time, a good light system increases safety because you have better visibility to other boaters, and your passengers can see clearly while moving about.
Under the water lighting adds a fun and visually pleasing element, plus greatly increases safety for night swimming, fishing, navigating shallows, and docking.
LED lighting is efficient use of electrical power, and provides years of trouble free performance.
 Tune-up Your Boat in the Fall
Do you ever have difficult starts? Experience a hesitation when accelerating, or stall out when decelerating? Does your engine run with perfect smoothness at every speed?
Fall or winter is a great time to have Lakeside Marine certified technicians work on your boat. New plugs, new ignition wires, and a full diagnostic assessment of your boat motor will make it a pleasure to operate.
Other items to consider are fuel filter, water separator, hydraulic systems, steering, shifting, belts, and impeller.
Enjoy peace of mind knowing that your craft is maintained to the highest marine standards in the industry.
 Always Store Your Boat With Fresh Oil and Gear Lube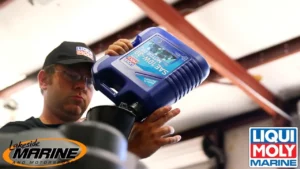 Clean oil is the lifeblood of your engine. By changing the oil in the fall, you coat your engine internals with fresh oil, which is free of contaminants. This adds to the longevity of your engine because clean oil minimizes internal corrosion.
Fall is also the best time to change the gear lube in the lower unit or outdrive. Any moisture that crept in over the boating season is removed and replaced with clean lubricant to ensure smooth trouble free operation come springtime launch.
For your convenience, Lakeside Marine offers same-day oil change and lower unit with outdrive service.
Boat Propeller Maintenance or Replacement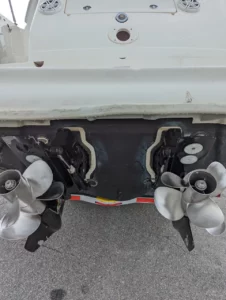 Fall is the right time to address unwanted vibration from your propeller. Dings or minor bends can be remedied.
We can also help you improve your boat's performance by matching your boat with the perfect new propeller. Propeller technology is constantly evolving and if you're operating with an old worn propeller, you will greatly appreciate the smooth feel during acceleration, top speed, and cruising when you have a perfectly tuned propeller.