Boat Bottom Painting Service

For Serious Boaters
Welcome to Boat Bottom Painting World!
As the Bottom Painting industry leader in the Lake Lanier, GA region, Lakeside Marine specializes in premium quality preparation and application of the finest bottom paints available. We deliver the Bottom Paint results that you desire.
We Bottom Paint boats to the highest standards in the marine industry. We approach Bottom Painting as an investment in your boat that provides a lasting upgrade that saves you both time and money.
Why? Because our preparation and application methods are superior to cheaper services, and our finished product is undeniably excellent. It's worth getting it done right!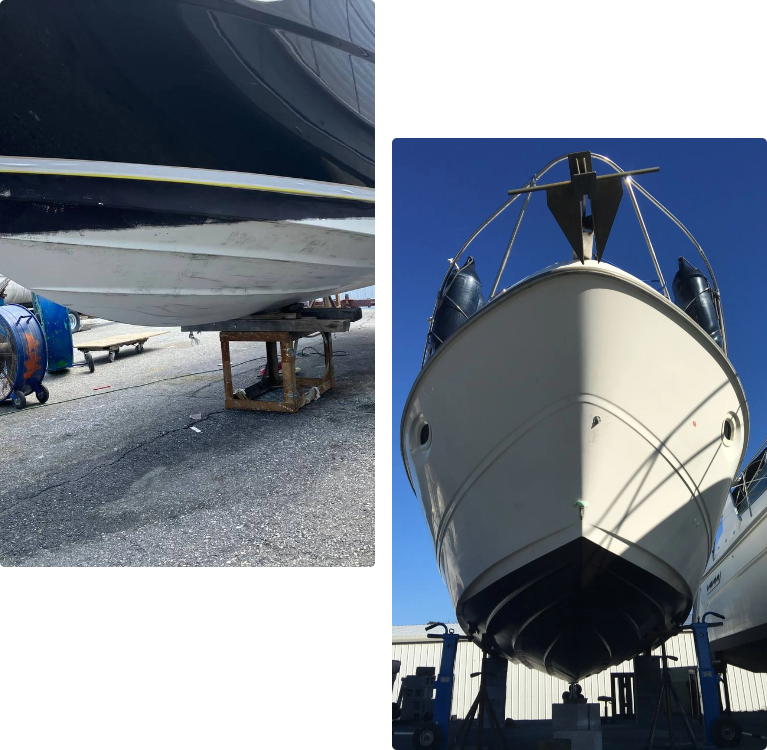 We employ a year-round full time staff dedicated exclusively to Boat Bottom Painting. We do hundreds of paint jobs every year, which translates into unparalleled experience with every style of craft.
For comparison, we've seen other companies quote bottom paint jobs allowing for one hour of prep time for scuff sanding. In our process, we utilize a two-person team that spends an entire day, or more, prepping the boat bottom to be ready to receive the primer coat.
It's Critical to Get it Right…
Our crew sands down the boat bottom to expose fresh gel coat, in order to provide maximum adhesion of the special primer. The primer in turn enables superior adhesion of the bottom paint. With a strong foundation from which to build upon, your finished paint job has lasting integrity.
This is always our standard procedure… To provide service to the highest marine industry standards, that results in a product that is superior to what others offer.
Different Types of Boats Receive Different Formulations of Bottom Paint
We bottom paint runabouts, deck boats, cabin cruisers, ski boats, fast boats, pontoon boats, tritoons, houseboats, and more.
If your boat spends extended time in the water, you are a candidate for bottom paint. When you choose to bottom paint your vessel, you make a choice that saves painstaking scrubbing, improves performance, increases efficiency, and maximizes enjoyment.
Your boat will be aesthetically pleasing when you show up for your carefree day of boating. You've made a serious investment in a beautiful craft. Now we invite you to make a serious investment in maintaining its ongoing beauty and integrity.
Consult with us for the correct bottom paint formulation and application that matches your style of boat.
How Much Does Bottom Painting Service Cost?
Just like a top-tier paint job on a fine automobile costs more, we take pride in efficiently spending time and effort to produce a superior end result in your Boat Bottom Paint job.
For instance, if your gel coat is compromised, we repair it. If your previous paint job lacks integrity, we fully strip the boat bottom. And of course, if we performed your previous paint job, a re-application of fresh bottom paint is relatively straight forward.
Some Factors Which Affect
Bottom Paint Cost:
Length and width of your boat
Existing condition of your boat bottom
Is it a first paint job, or is it a re-paint?
Does your boat require a full strip-down of old bottom paint?
What is the formulation for your boat's style?
Is it aluminum hull, or is it fiberglass?
Sample Cost of Boat Bottom Painting Service:
Sample Cost of Boat Bottom Painting Service:
A never-before bottom painted fiberglass boat
A previously bottom painted boat that has a quality base primer layer
A previously bottom painted boat that requires a full strip down, either because there are excessive layers of existing paint, or the existing bottom paint job lacks integrity
A medium sized pontoon boat
Boat Bottom Painting prevents the growth of aquatic organisms and algae from adhering to the bottom of your boat. This is a necessary addition to any boat that remains in the water for extended periods like in a boat slip, or moored.
Both cost effective and time saving, bottom paint, also known as antifouling paint, eliminates painstaking hours of scrubbing a boat bottom.
Lakeside Marine has a professional staff dedicated just for bottom painting. We do so many re-paints as well as full strip down services every year, that we have extensive knowledge and experience with every type of boat.
We service many styles of boats including cabin cruisers, sport fisherman, ski boats, center consoles, pontoon boats, fast boats, and even house boats.
Our surface preparation techniques and paint application methods are performed to the highest quality marine standards. Our finished projects are fully functional and aesthetically pleasing.
There are many choices of bottom paint formulas, and our knowlegable staff can consult with you match the correct bottom paint for your application. We carry all of the top names and formulations in the bottom paint industry.
Find out why hundreds of boat owners every year choose Lakeside Marine as their trusted provider for Boat Bottom Painting Services.
Benefits of Boat Bottom PaintING
Prevents buildup of damaging and unsightly aquatic organisms
Preserves the integrity of your boat
Increases fuel efficiency and performance
OUR Google Business REVIEWS
Our team is dedicated to bringing the customers the best boat engine repair in Georgia, and here are some thoughts they have shared.
I purchased a new boat trailer from Tyler. He did a great job having the trailer prepared and all of the paperwork taken care when I arrived. I would highly recommend Lakeside Marine to anyone who wants to work with a professional company.
Got a Jetski from these guys today ! Tyler was super helpful in the process and even took us out on the lake and gave us a very good learning session and made sure everything was ok. Great group of guys, love working and doing business with people like them!
I called Dane about replacing a motor in my boat (Sea Ray 300) and he gave me a timeline and a price and I even changed the scope of work and asked him to replace the other motor as well and he still kept his timeline. They have a great facility with people who are accountable doing the work. My calls and texts were promptly returned. The guy who built my motors launched my boat and went out on the water to ensure my satisfaction. In a time that many things are uncertain Lakeside delivered and I have enjoyed my boat all summer. I would encourage anyone to give them shot if you are not happy with your current mechanic
Tyler Poteat was very professional and took really good care of me. I traded trailers and got a brand new one from them and he was a man of his words and gave me what he said he would over the phone. I traveled 2 1/2 hours to Lakeside and would do it again. I highly recommend them for trailer sales and anything else you need for boat are jet ski. Honest reliable people there. Jay Aiken under my Sons google acct.
I had one day to get my jet ski winterized (before a weekend freeze). I called Lakeside Marine, and they told me to bring my jet ski now. I pulled my SUV (jet ski trailer still attached) to the front office, and Ian walked out with all the equipment. He winterized my jet ski right in front of me. He explained everything and provided tips for simple jet ski maintainence. I was so impressed with my winterization that I went ahead and had Ian change my oil, oil filter, and spark plugs. Excellent customer service! They are fast, cheaper than other places I called, clean, nice, and very professional. I would highly recommend Lakeside Marina and Motorsports. III
Couldn't have been happier. I had a boat picked up and trailer from Lake Hartwell to Lake Oconee. The couple that came to pick up the boat were great! Very helpful. And the entire process was smooth, easy and exactly what I needed.
We purchased a new boat trailer from James Stuart. Could not have been better taken care of. James spent significant time with us going over every aspect of the trailer, adjustments to be made, and even included a tutorial on how to properly load a boat. He was transparent through the sales process with pricing, highly responsive, and I have full confidence he will be there to answer questions in the future. I give James my highest recommendation.
Chris & Lakeside Team were Awesome! Timely to my needs with great Follow Up & Communication!
This is my 3rd experience with Dane and his crew. They are a top notch boat service & repair shop. Very customer oriented. They are not satisfied until you are satisfied. I always have a great experience at LSM&M. James Stewart, the service guy keeps you up to date while your boat is being repaired or serviced. He is very knowledgeable about what the problem is and works at fixing it at the least cost to you.
I highly recommend this team for your next boat service or repair!
I can't say enough about Gary, Eian and all the staff that support them. It is so rare to have the quality of work that they performed on my Supra these days. True professionals. No corners cut. Amazing end product. They did some mechanical and gelcoat repairs. The gelcoat work that Angel did is top notch. The entire bottom of my boat looks as good as it did when new. I will not use or recommend using any other boat repair shop. Thanks for the great work guys.
Get Your Boat Bottom Painting Quote:
For an exact price for your boat's quality bottom paint job, contact us and we will consult with you regarding technical aspects of your job. We will gladly provide you with an accurate and fully detailed quote to complete your custom Bottom Paint job.
The end result will be the best quality and aesthetically pleasing Bottom Paint job that will inevitably save you time from ongoing maintenance, and money because the job is done right.
Get on the docket today, or pre-schedule for Fall or Spring Bottom Painting Service.